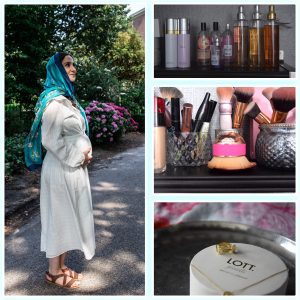 I am currently 34 weeks pregnant and for me it was from the beginning of my pregnancy a challenge to continue my self-care habits. Especially in the first months in which my body and mind went through many changes, it was difficult to find the focus and energy for caring for myself like I used to. In this blog I will share my pregnancy self-care experiences  with you and I will give you tips on how to take care of yourself and look groomed and stylish during your pregnancy.
Insecurities due to changes
Because of all the ailments, of which nausea and vomiting were the most important, my priority was of course to get enough nutrients, so that my baby could grow well. At the same time I also had to deal with my physical changes. Especially when my belly became more visible and I started to gain more weight I began to feel insecure about my appearance.
My nice, hip, cool, business-like and elegant clothes did not fit me anymore! And when I looked in the mirror and saw my pale face I felt dissatisfied and uncomfortable. I then decided to pay more attention to my self-care, because this would really improve I felt about myself and how I would get through my pregnancy.
Comfy but fashionable
As your belly becomes bigger, you want to wear comfortable clothes. However, you don't want to walk around in shapeless ensembles or only wear sportswear. You don't need to spend a lot of money on fancy pregnancy outfits either. Schedule a day to dive into your current wardrobe and bring out all your wide dresses, blouses and other clothing that can grow with you for the first months of your pregnancy. Stretchy leggings are great, because they are comfortable now and they still will fit you in a few months. 
A clothes rack and hangers on which you can hang all your favorite pieces can help you to store all your clothes orderly. That will make it easy for you to select a fashionable outfit every day and thus save you a lot of thinking and searching work. You can also easily see what key items you still need to purchase. Don't forget to invest in properly fitting and comfortable maternity underwear. Schedule a day to go shopping with your sister, mother or girlfriend an take this opportunity to have some good (decaffeinated) coffee or tea and of course some tasty pastries.
Accessories complete your look
With jewelry you can give every look a stylish touch instantly. But be aware that your hands and fingers may swell during the day. Therefore, do not wear tight bracelets and rings. You can purchase adjustable rings and bracelets. You can continue to wear these after your pregnancy, so it is a good investment! I myself have these gold-plated silver rings from LOTT. In this collection they also have bracelets and necklaces. These elegant adjustable bracelets from CHICZ will make your look chic and sophisticated. A nice pregnancy pendant will emphasize your beautiful growing belly.
With scarves you can add more style to every look. If you have not yet shared the big news with everyone, in the first trimester you can easily cover your belly with a large scarf. As your pregnancy progresses you can accentuate your beautiful belly with colorful and stylish scarves. Organize all your scarves visibly by color or material in a basket or drawer, so that you can match easily.
Face and body
Before I became pregnant, I had packed all of my make-up, brushes and tools and all my skincare products in different cases and lay them in different places in the house. However, when your products are not visible, the chance of using them becomes smaller. Especially if you have severe pregnancy ailments.
Make a place for all your make-up and skin care products in your bedroom or bathroom. I have visibly displayed all my favorite make-up product on shelves in my bedroom. It already makes me happy when I look at all the colors and shapes. But you can be as creative as you want, depending on your own personal preferences. It is important that you have everything within reach and that you make all the cheerful colors visible.
Give your face and body creams a prominent place so that you can continue to take good care of your skin. In my experience the skin is during pregnancy more vulnerable to dehydration. Make sure that the products you use are safe for your baby at all times. Ask your midwife if you are not sure about it.
Find a video on youtube with an easy daily make-up routine turorial, so you don't have to waste too much time and energy on it in the morning.
Don't forget your hands and feet
Use a nice hand and foot cream daily. Your feet and ankles may swell during your pregnancy, so choose your shoes carefully. Wear only shoes that fit well and aren't too tight.
Due to the extra kilos and the many standing at work, my feet have had a hard time in recent months. That is why I regularly scheduled a pedicure treatment at a salon in my neighborhood. The foot massage stimulates the circulation, so that my feet feel less heavy and tired. Moreover, my feet become as soft as a baby skin. In this way I also give something back to my feet, who do their best for me every day! 
Opinions differ on the safety of wearing nail polish during pregnancy. If you want to wear nail polish, have your midwife inform you about this.
Good for me and good for my baby
With these self-care tips you only need 15 minutes every day to feel and look your very best during your pregnancy. Despite all the ailments, I enjoy this precious time more and that is good for my baby too, which of course is my ultimate motivation! 
I wish all mums-to-be an amazing pregnancy!
Love and Care
Rachida Ben Moussa
Do you have any helpful tips, please share them with us on info@chicz.nl?